BETTER TOGETHER - Promo event VERTIV
10. 05. 2023News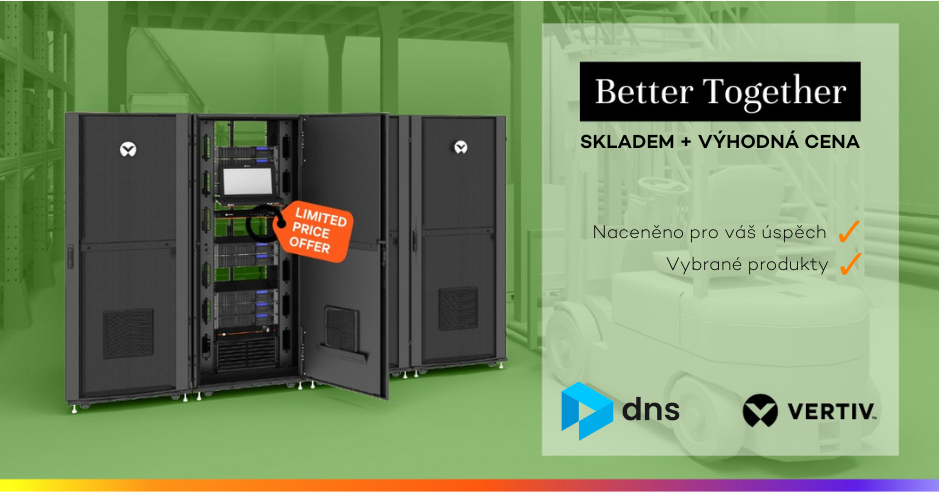 Terms of the Better Together promotion for partners
1. GENERALLY
The Vertiv™ Better Together Promo (the Promo) is a limited-time promotion that offers reduced prices on select SKUs. Promotion valid from April 1, 2023 to June 30, 2023.
2. PARTNERS
The promo is intended only for partners purchasing selected Vertiv products through an authorized distributor.
3. PRODUCTS
Promo only applies to selected products listed in this table:
Products other than those specifically listed are not eligible for this promotion. Promo is subject to product availability and is only available while the distributor's product stocks last. This promo cannot be combined with any other VERTIV offer or promotion.
4. PRICE & DISCOUNT
The final price for the partner results from the distributor's price offer. When communicating, mention the promo code: 'BETTER TOGETHER'.
Promo prices are based on Vertiv's official standard price list for partners in the given region and cannot be combined with any other local promo offer or deal. Prices are subject to local regulations, which may include additional fees. This promotion counts for registered VIP partners in the bonus program for silver, gold and platinum partners. Shipping conditions are not subject to this promotion. For more detailed information on shipping, please contact us.
5. FINAL PROVISIONS
The promotion is valid from April 1 to June 30, 2023, which is the last day to place an order. Vertiv reserves the right to modify or cancel this promotion at any time. Notice thereof will be sent by e-mail and the applicable change and cancellation shall be deemed final and binding from the date the notice is sent. It is expressly agreed that Vertiv reserves the right to unilaterally change the list of SKUs selected for this promotion and/or product combinations during the duration of this promotion.
6. CONTACT
For more detailed information or additional questions, please contact Dalibor Eliáš: delias@dns.cz.